Kindred Healthcare is the leading provider of skilled nursing, rehabilitation and hospital service in the United States. According to payroll office and official website, the company are no longer connected to the TALX paperless Pay service for employees. But the company also ensure that they continue to provide the online self-service and will no longer be emailing or mailing your payroll information. Only the community care PCA employees in Taxes and Missouri will continue to receive their pay stubs by mail.
Knect website will allow you to access your pay stubs, year-end tax statements and others benefits information. You will also find out essential reference and link in this portal. All active employees of Kindred have access to this site through office and home and already registered for use. Pay stubs will be available to view and print before the day of actual pay date on this portal. W2s will be available to view and print in the mid of January on this portal but hard copy will be mailed on last week of January (no later than 31st January). 
Getting Started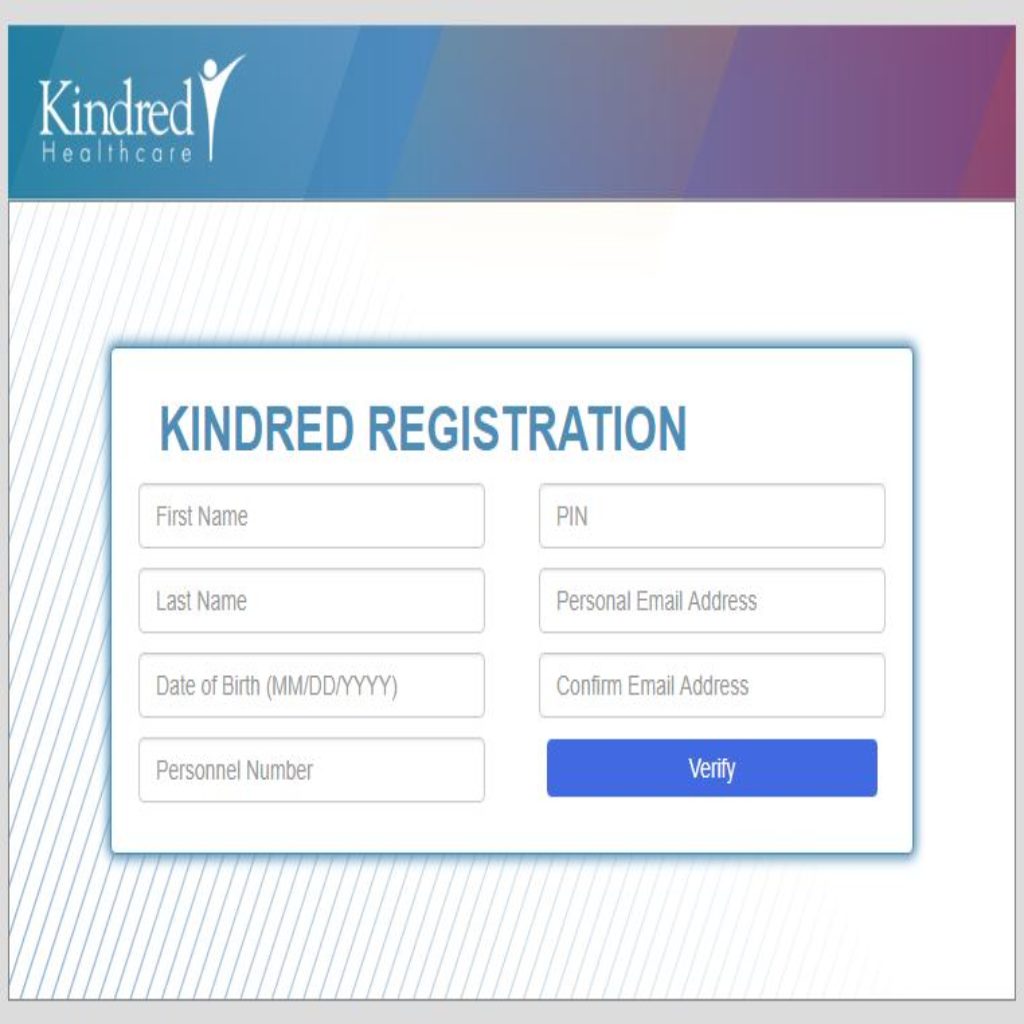 You have been provided a PIN number and personnel number for your initial log in. If you do not have then please collect from your payroll office and follow this process. After navigating the REGISTRATION page using the mentioned link- https://register.kindredathome.com/, provide the First Name, Last Name, Date of Birth, Personnel Number, PIN and email address and click the "Verify" button.
Then you can set your Password from the automatically appearing Password screen following the requirements and instructions correctly.
Once done! you will see several tabs, which is labeled Pay Stubs, W2s, and Direct Deposit etc. Click on a desire tab and view or print your desire pay stubs or W2s.
How to Access ESS?
To access your pay stub information, sing on to the Knect ESS by heading to https://ess.kindred.com/sf (Kindred Healthcare team members) and https://ess.kindred.com/sfh (Kindred at Home team members) or use okta https://ishealth.okta.com.
If you have never used this system, you will need to login with username and password (same as your normal intranet ID which is first 5 letters of last name + first initial of first name + 2 numbers for example- narezs02).
Enter a secondary email.
Select and answer security questions.
Select a security image you wish to use and finally click on create my account.
Once logged in, Click on SuccessFactor (Home Health) app icon at the Work tab.
Now you have to complete the Voice Call Authentication process.
To unlock your account you can call the payroll administrator at (877) 836-2626 or call the Kindred HUB at 800-991-6171.
Reference
https://ess.kindred.com/sf (Kindred Healthcare team members)
https://ess.kindred.com/sfh (Kindred at Home team members)
 https://ishealth.okta.com (Okta).
https://register.kindredathome.com