Earl Enterprise is such kind of a company that has a large number of employees for ruling in the field of entertainment, leisure, tourism, hotel and restaurant consultant services. Earl Enterprise is the marquis brand for a group of companies or brand where those brands such as Planet Hollywood International, Buca di Beppo, Earl of Sandwich, Bertuccis, Chicken Guy, Seaside on the Pier, Café Hollywood, Mixology 101 and Tequila Taqueria are owned, operated and managed by the Earl Enterprise. All employees related with Earl Enterprise are provided their pay stubs and w2 statements via UltiPro portal using InfoSync payroll service at https://infosync.ultipro.com because this way is very easy and it saves time.
How to get access to your pay stubs and w2 statements?
First browse your portal link https://infosync.ultipro.com with a network connected device and this link will reach you to the login page of your online payroll portal. If you are an old user of this portal then you can log in with your credentials as User Name and Password. Then you will be navigated directly to your Dashboard or Personal UltiPro Screen.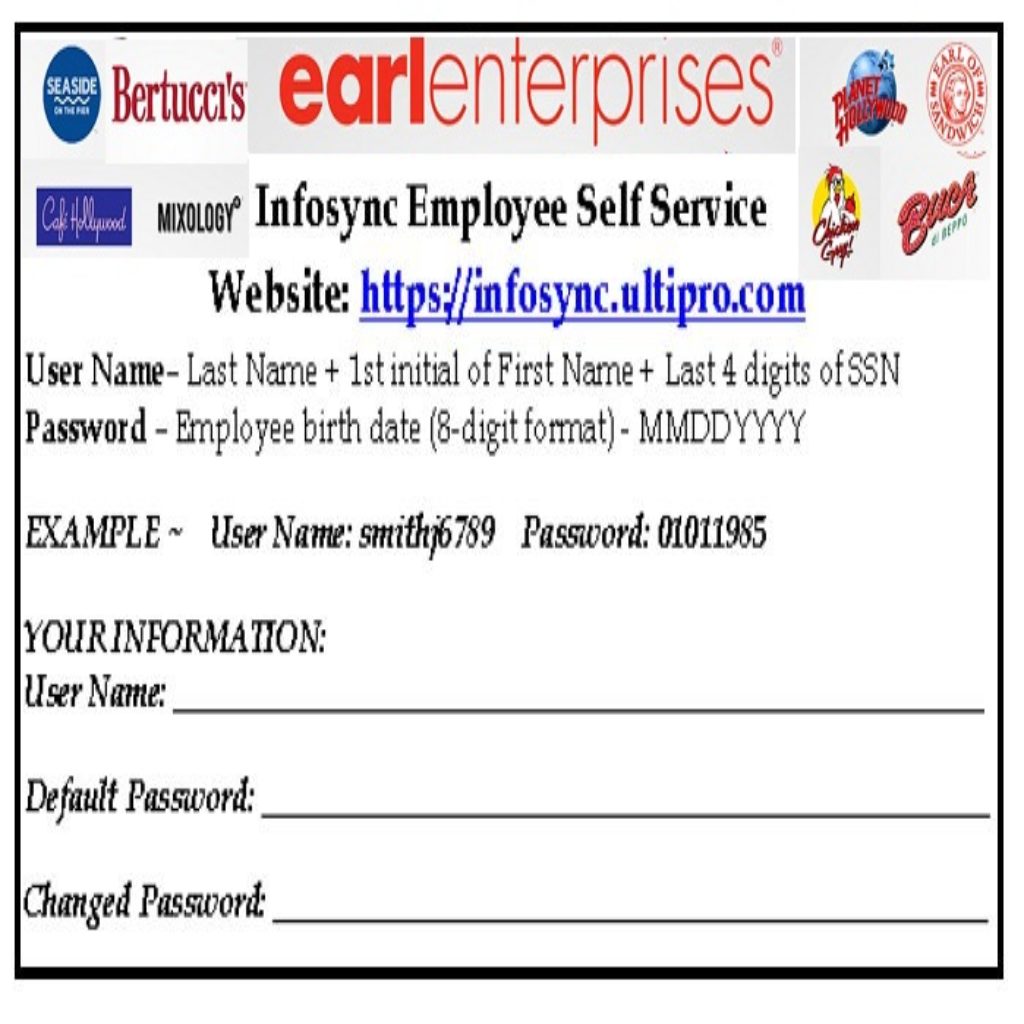 But if you are a first time user then you must have to follow these steps:
Please enter your User Name and Initial Password then click on Log In button as initial login. Your User Name is your Last Name + First initial of your First Name + Last 4 digits of your SSN (Social Security Number). Suppose, you are John Smith and your SSN is 12456789. So, your User Name will be smithj6789. Your Password will be 8 digits format (MMDDYYYY) of your birthdate.
Now you have to change your initial password and Initial Password changing screen will be appeared automatically. You will be able to find the requirements for your new password on the screen and follow it properly.
In this step challenge questions screen will be appeared and you have to select 3 challenge questions from dropdown list and type the answers on the right sided text box. Then click on Continue button for going to next step.
Now you will get your Dashboard or Personal UltiPro Screen. There will be your name on top of the dashboard. There is a Menu bar on left-top of the screen. With clicking on Menu you can get your desired information and documents with following specific options under Menu option. You can view and manage your personal information, Documents, Company information, Job Summary and payment related information like Current Pay Statements, Pay History, Direct Deposit, Income Tax, W-2 etc.
Help: You can reset or retrieve your password with Forgot Your Password? Option from the log in page. Here, you have to provide your User name and Company access code (Collect your company access code from your employer or HR office).
RESOURCE