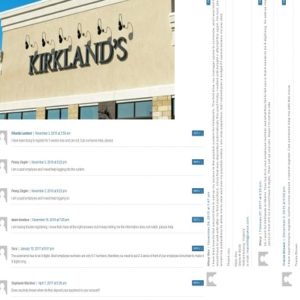 Kirkland's is a leading retailer of home décor and gift items in the United States of America. If you are working at this company, the present article will help you access your pay stubs online. Basically, the company uses the Money Network Paystub portal service to access the paystub portal and phone application. To access the paystub portal, you must log in with your 9 digits Employee ID and PIN. But if you are a first-time user, you must complete the registration process. But If you have never been paid by Kirkland before, you must wait for at least one payment cycle to receive manual payment and a paper pay stub
To complete the process for registering as a user on the Kirkland PayStub Portal website: you should follow the following steps-
Step 1: Go to www.paystubportal.com/kriklands
Step 2: Click on the First visit? Register Now link.
The system will present you with the Registration page, where you must enter the following information.
Step 3: Please enter the requested information as described below-
Employee ID: Enter your employee number. In most stores, the employee ID is 6/7 digits, but the system requires 9 digits of Employee ID, so you need to put 2/3 zeros in from your employee id number to make it 9 digits long.
Date of Birth: provide your date of birth without a year. For example, if your date of birth is Dec 06, then your birth date is 1206.
SSN: Enter the last 3 digits of your social security number.
Step 4: Establish a PIN. The PIN must be 4 digits and numbers only.
Step 5: After successfully verifying the provided information against the HR payroll database, sign in with your Employee ID and PIN.
Step 6: When your Employee ID and PIN is accepted, you'll be prompted to add an email address and phone number
Step 7: You can click on any of the paycheck dates to view your pay stubs.
W2s
W2s will be mailed in the last week of January to the filed address of employees. Please allow at-lest 7 working days to arrive at your mailing address.


Use the Phone App
Money Network also offers mobile applications for android and iPhone users. Just click on the play store button to download this app from the Google play store. If you are an iPhone user, click on the apple store button. After successfully installed on your phone, just run this app and set up your account with the required information. Once complete, the view pay stubs option is available on the dashboard.
Resource
Paystubportal.com/kriklands